There is so much information out there about diets promising to help us to lose weight fast. Most of us will have attempted a detox or a crash diet but these diets are unsustainable and unenjoyable.
At The Ring, our ethos is to workout and fuel our bodies the right way, making our exercise routine and diet part of our lifestyle – losing weight in a healthy and sustainable way. 
The benefits of exercise go beyond burning calories and losing weight, ultimately you will improve your mindset – an immediate benefit. Giving you the energy and motivation you need on your weight loss journey.
Read on for our 5 helpful tips to lose weight.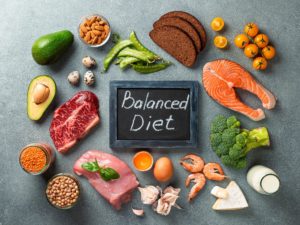 1  Food and Nutrition: Counting calories and macros
To get the most out of your training sessions and to avoid cravings, you'll need to eat a combination of macros: proteins, fats, and carbohydrates and enough calories – this will provide you with the energy you need to get the results you're after.
Develop a consistent and manageable diet plan and count your macros and calories with a food-tracking app like MyFitnessPal.
This way you can keep track of what you're consuming and what you might need to change to reach your goals.
At The Ring, we love to meal prep – taking a few hours at the weekend to prep our meals for the week. This saves us time in the week and makes it easier to stay on track when things get busy with work and life.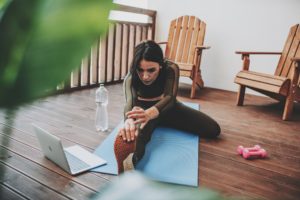 15 Minute Workouts everyday
If you're new to working out or can't quite find the time in your day, start small by scheduling 15 minute workouts everyday. Anything is better than nothing and it's important to move everyday.
From there you can begin to build up the lengths of your workouts and make it a part of your routine. As you start to lose weight and have more energy, you'll be more motivated and energized to workout for longer.
Fitness is a lifestyle, routine is important
Be patient, and set small, realistic goals. To lose weight in a healthy way takes time – you don't want to shock the body to go into 'starvation' mode as the body's response will be to slow down your metabolism and store more fat.
Lasting weight loss is a lifestyle choice that promotes your overall well being. Be consistent, find a workout you enjoy and keep track of what you eat but remember to enjoy the journey and you'll see long lasting results both physically and mentally.
Follow weight loss journeys on social media
Social media can be a great source of inspiration – whether through sharing progress pictures, recipes or workouts, it can be uplifting and provide you with motivation on a daily basis. Just be careful who you follow, there are a lot of accounts out there which don't promote the healthiest practices. Follow people who have a healthy weight loss journey not those with restrictive or crash diets.
Join a fun fitness community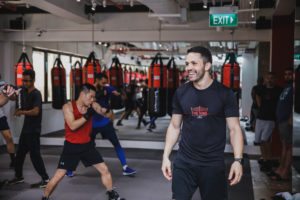 Join a gym for motivation and inspiration. If you haven't tried Boxing or Muay Thai, we recommend booking into a session at The Ring for a full body, cardio and strength workout that will help you to burn fat while having fun. Plus, the motivation of the trainers and your fellow classmates makes it our favorite way to exercise.
Set some realistic goals, find a workout you enjoy and learn to make your new 'diet' part of your everyday lifestyle. Before you know it, you'll be feeling more energized and motivated from the process and losing weight in an enjoyable way.